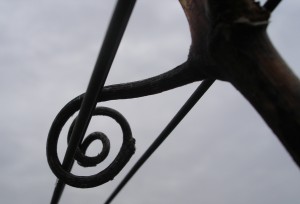 While we've never been big fans of exclusivity or privilege (after all, this is Oregon), we've started a wine club to recognize our most loyal customers.
Twice yearly (typically April and October) members are offered the opportunity to receive a new collection of six carefully selected bottles of Longplay Wine at exceptional savings. This is wine lovingly produced by real humans – not some giant corporation – in extremely limited quantities from one very special vineyard. (Please note that while membership carries no obligations, it is a commitment on both of our parts: I will work hard to retain your loyalty.)
Become attached to Longplay Wine and "share the ride" as the Longplay Wine project evolves over the years to come. It is much more fun to share our wines and experiences with people who are attached to the brand. And they should be rewarded for their support. Groove Club benefits include better pricing, extra attention, special events, virtually unlimited esteem and prestige – and perhaps even some awesome swag.
The commitment is mutual – I do my best to assemble a compelling shipment every six months. You agree that you are prepared to continue purchasing the shipments when they become available. I always contact you and confirm your desire to remain a member before you are charged and the wine is shipped. The ultimate goal is to sell almost all of our production through the Groove Club. This way we can spend less time selling wine and more time in the vineyard –  the key ingredient to growing fruit for great wines.
Thank you for making Longplay Wine a part of the special occasions in your life.
Joining is super easy.  Just contact me, visit the Longplay Wine tasting room, or visit our online shop and order a Groove Club shipment.  You'll enjoy immediate savings and some great wine, including past vintages that are available only to Groove Club members!
Groove Club Shipment #12 – What's in the box?
Groove Club Shipment #7 – What's in the box?
Groove Club Shipment #6 – What's in the box?
Groove Club Shipment #5 – What's in the box?
Groove Club Shipment #4 – What's in the box?
Groove Club Shipment #3 – What's in the box?